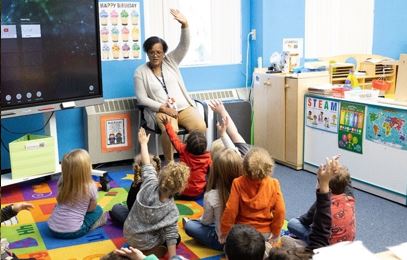 Holistic Family Planning for Children and Parent Education
When the Jensen family enrolled into the Allegany County HRDC Head Start/Early Head Start Program, they were young parents of a 4-year-old, an infant, and a baby on the way. Together with their Family Advocate, the parents set goals to help their family advance. Initially their immediate goals were for mom to go back to school and obtain her Associates degree, and for the family to cut down on expenses in order to purchase a larger, reliable, vehicle. Their Family Advocate helped them to create a monthly budget. Once she had a better idea of the family's expenses, she helped them apply for Energy Assistance and SNAP benefits to help relieve some of the financial burden.
Within eight months, the family was able to save enough to finance a vehicle that would accommodate their growing family. During this time mom was also able to enroll in an online Associates program, which allowed her to complete her schooling while still caring for her young children. Shortly after their third child turned 1-year-old, dad had just received a promotion at work and the family felt it was time to work towards a big goal. They were ready to purchase their first home. Their Family Advocate referred them to the First Time Home Buyer course offered by HRDC, and the family could not sign up fast enough! Shortly after completing the course the parents learned they were expecting a fourth child. With their older children all attending school, or Head Start, mom decided it was time for her to work part-time as a Head Start substitute to help put some additional money away before the baby's arrival. Over the next year and a half, the parents continued to work hard, welcome a new baby, and purchase the home of their dreams. They have continued to participate in the Head Start/Early Head Start program with the support of their Family Advocate. Recently, mom obtained her Associates degree and plans of opening an in-home daycare.
Visit https://alleganyhrdc.org/head-start/ for more information.