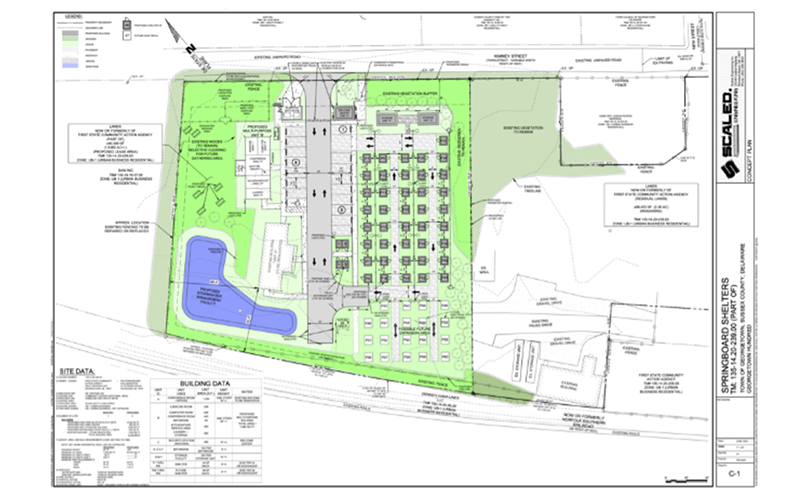 Reducing Delaware Homelessness One Pallet Village at a Time
Homelessness in Delaware has surged massively since the onset of the COVID-19 pandemic in winter 2020. Data from the February 2022 Point in Time Count conducted by Housing Alliance Delaware reported 2,369 individuals experiencing homelessness in the state, the highest count in the state's history and double the number reported in the January 2020 survey. Sussex County, Delaware saw the largest increase in homelessness in the state – an increase of 128% . There are currently only 8 emergency shelter projects in Sussex County with a total of 705 available beds.
First State Community Action Agency, Inc., Delaware's sole Community Action Agency, has partnered with the Springboard Collaborative to address the growing challenge of homelessness in southern Delaware with an innovative solution. A 40-unit "Pallet Village" has been constructed by the Springboard Collaborative on land leased by First State Community Action Agency in Georgetown, Delaware. This 2-year demonstration project will lay the foundation for future replication in communities across the region. The Village is set to open in December 2022.
This project is the culmination of a multi-year, cross-sector collaboration between community-based organizations, the local government, housing service providers, concerned residents, and others working together to develop strategies and solutions to address the housing crisis in southern Delaware. The project has raised approximately $2 million to date from private, philanthropic, public, and other sources for construction and operation.
The Pallet Village concept is a transitional housing model that has been successfully deployed in approximately 60 communities across the United States to date. The cabins are affordable, rapidly built, sanitary, and private. Each cabin is equipped with heat, air conditioning, and storage space. Shower and restroom facilities are available on-site. A Community Center will be constructed at the Georgetown Village in the near future to house a kitchen, private meeting space, and other amenities to serve the residents.
The Georgetown Pallet Village Project will implement a Housing First methodology and is a low-barrier shelter project. Housing First is an evidence-based model that "does not mandate participation in services either before obtaining housing or in order to retain housing. The Housing First approach views housing as the foundation for life improvement and enables access to permanent housing without prerequisites or conditions beyond those of a typical renter. Supportive services are offered to support people with housing stability and individual well-being, but participation is not required as services have been found to be more effective when a person chooses to engage. Other approaches do make such requirements in order for a person to obtain and retain housing."
Comprehensive wraparound services are critical to ensuring residents of the Village move towards the goals and, ultimately, self-sufficiency. FSCAA has worked with the Springboard Collaborative to build out a network of providers to serve on Care Teams to address identified needs of residents. Local organizations like La Red Health Center, Brandywine Community Counseling Services, the Delaware Division of Substance Abuse and Mental Health, local health systems, and others will provide services in their respective area of expertise to residents of the village to address physical health, mental/behavioral health, addiction, nutrition, transportation, benefits counseling, job training, and other needs.
First State Community Action Agency has signed on to the project as a Care Team Provider and will provide Comprehensive Case Management and Employment and Training services to Village residents. FSCAA and Springboard will work collaboratively to develop integrated, individualized care plans with appropriate timelines and milestones for each resident, will share data to ensure an efficient, effective participant experience, will report collaboratively to demonstrate the cross-organization impact of programming, and ensure the best possible outcomes for participants.
FSCAA's Case Managers will provide Village residents with holistic wraparound services that address barriers to obtaining employment, income, stable housing, access to transportation, education, and others. They will collaborate with other Care Team Providers to ensure that Village residents are accessing all resources needed to meet the goals set in their Care Plan. Regularly scheduled Care Team meetings will ensure Village residents are actively involved in their care and progressing towards goals. Care Team services will be provided on-site at the Georgetown Pallet Village whenever possible. Residents will have access to the full array of First State services as needed.
Long-term goals for the Georgetown Pallet Village include:
60% reduction of homelessness in the 19947 (Georgetown) zip code within 4 years
50% of Village residents will achieve self-sufficiency in 2 years
Reduction in public cost of homelessness – Average cost of Pallet Village residency per person is estimated at $15,000. The National Coalition to End Homelessness estimates that each chronically homeless person currently costs the American taxpayer $35,578 per year.
Average Village resident stay of 6 months
Reduction in cost of local law enforcement and emergency services related to homelessness
Stabilizing residents and reducing trauma related to homelessness
Replication of the Village in other areas of in the region
https://endhomelessness.org/resource/housing-first/